When Google opened their Chelsea office space back in 2011, the neighborhood experienced a tech boom as employees descended upon the area. Originally an industrial neighborhood known for its inexpensive office space, Chelsea was completely revitalized by Google's arrival — and this pattern only continued when the tech giant purchased Chelsea Market for approximately $2.4 billion in 2018. Now, Google is moving into Hudson Square, another neighborhood that could be in for a major overhaul in the coming years.
In recent years, Lower Manhattan's Hudson Square neighborhood has been undergoing a slow evolution from an industrial area to one that's more comfortable for daily living. New residential buildings have popped up throughout the neighborhood, and fine dining restaurants and popular retailers have also moved to the area. Locals love spending time at Freeman Plaza West, a comfortable urban green space that's great for relaxing and spending time with friends. The addition of some major tech campuses will certainly continue this revitalization, creating new jobs for both locals and New York City transplants.
Now, Google is coming to Hudson Square, bringing with it all the development and excitement that Chelsea has experienced. At the end of 2018, it was announced that Google would be building a $1 billion campus in the neighborhood to be called Google Hudson Square. This 1.3 million-square-foot office space will span three buildings and be located at 315 and 345 Hudson Street.
Google expansion at Hudson Square's St. John's Terminal
Google is also planning for additional office space at St. John's Terminal, the 550 Washington Street former freight terminal. These plans began to crystalize in late 2018 when Oxford Properties Group partnered with the Canadian Pension Plan Investment Board to construct the 588,000-square-foot expansion. The deal to expand St. John's Terminal into a major nine-floor tech hub closed in the summer of 2019, and completion is slated for mid-2022. While the construction hit a few snags due to the COVID-19 pandemic, it's estimated that Google employees will be able to occupy the building in 2023.
The St. John's Terminal site was once the freight terminal at the end of the High Line, making it an important historical landmark for Manhattan. Architects working on the project are well aware of the site's significance, and they're working to integrate and preserve elements of the terminal so that its importance to infrastructure won't be forgotten. The construction will incorporate the original railroad tracks into the new design, leaving them visible throughout parts of the building; since the terminal follows along the Hudson River, more glass will be incorporated to connect the space with nature and the waterfront.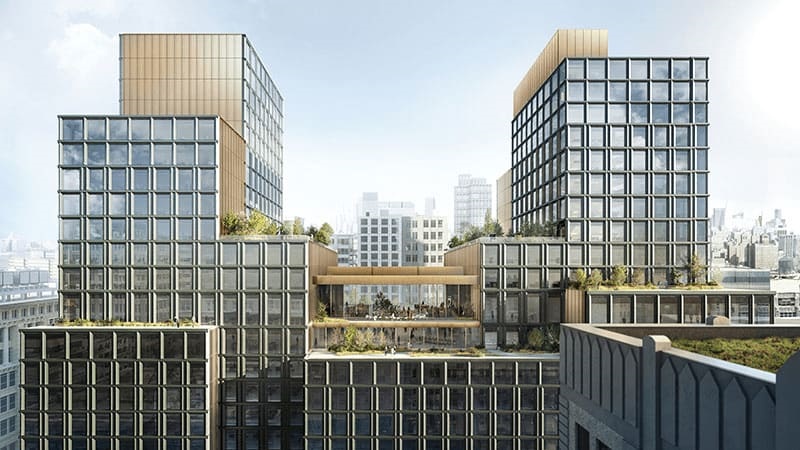 Credit: Skidmore, Owings & Merrill
Disney: Google's new neighbor in Hudson Square
Google isn't the only major company with its sights on Hudson Square! Disney has also recently been searching for a new Manhattan headquarters after selling their Lincoln Center building for $1.155 billion. In the summer of 2018, Disney purchased the rights to develop a new Hudson Square location for $650 million.
Disney's new Hudson Square headquarters will span 19 stories, featuring an East and West building. Architecture and design firm Skidmore Owings & Merrill will handle the buildings' design, transforming the properties at 304 Hudson Street and 137 Varick Street, both part of a complex known as Four Hudson Square. As of summer 2021, construction for the Hudson Square Disney headquarters is well underway; the 320-foot tall pair of towers will feature terracotta panels, bronze finishes, and large floor-to-ceiling glass panels. The new buildings will house Disney office spaces, film and production studios (including shows like The View and Live with Kelly and Ryan), and ground-floor retail stores that are sure to keep Hudson Square vibrant and lively.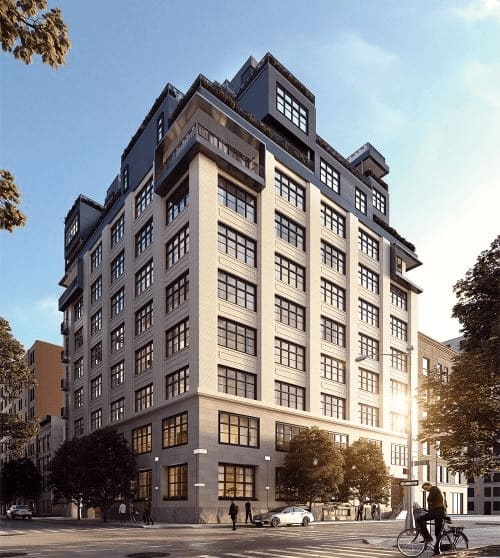 Credit: 90 Morton Street
New employees flocking to Hudson Square
With the advent of these spacious and luxurious headquarters, plenty of new jobs will follow; many Google and Disney employees from across the globe will also be packing up and heading to Hudson Square. To accommodate their needs, some fantastic residential buildings are being constructed or remodeled. Presently, a Hudson Square resident can expect to pay around $3.4 million for a condo or about $8,900 per month for a rental unit. Read on to learn more about some of the most luxurious residential options in the Hudson Square area, perfect for tech workers who are new to Manhattan.
Newly opened in early 2020, Hudson Square's Greenwich West holds the title of one of the neighborhood's tallest buildings, offering sprawling views of the Hudson River, New York Harbor, the Statue of Liberty, and of course, the iconic New York City skyline. Designed by an esteemed team of Parisian architects, the residences at 110 Charlton Street are inspired by 20th-century French industrial design, which perfectly suits the area's tree-lined streets and up-and-coming atmosphere.
The residences at Greenwich West are available as studios or one-, two-, or three-bedroom homes, each featuring gorgeous open floor plans, floor-to-ceiling windows to enjoy those breathtaking views, and unique European interiors. Each living space is carefully designed with wide-plank European white oak floors, walnut and Carrara marble kitchens, hand-plastered interior walls, engraved doors with custom detailing, and chic nickel-plated toggle light switches.
Greenwich West residents can enjoy fantastic luxury amenities like a rooftop garden terrace, a state-of-the-art fitness center with weight training gear and a yoga studio, a relaxing spa with steam rooms, and a tranquil Viewing Garden courtyard. The building features a private lobby with a 24/7 doorman for your peace of mind, along with other fabulous amenities, including an onsite handyman, an automated self-parking garage, bicycle storage with direct access to the sidewalk, and a dedicated service entrance for moving in and receiving big deliveries.
Another incredible option for luxury Hudson Square condominiums can be found at 90 Morton Street, a former printing house that has been incredibly preserved and updated. Its historic facade remains, but indoors you'll find all the spectacular modern amenities you could ever want.
Thirty-five beautiful residences are located throughout 90 Morton's 12 floors, available in units varying from two to five bedrooms. 90 Morton's stellar amenities include a private and secure automobile bay, a private library, a spa pool and sauna equipped with private changing rooms and showers, a high-tech fitness center, and of course, a gorgeous rooftop terrace that's perfect for both relaxing and entertaining.
Rooms are fully equipped with 12-foot beamed ceilings, airy open floor plans, and multi-pane windows to let in plenty of natural light. 90 Morton Street has become one of the most desirable places to live in the Hudson Square area — it's even in the list of the top 10 selling buildings in New York City for 2021's first quarter.
Looking forward to a post-COVID world
Most Google employees have been working from home since the start of the COVID-19 pandemic in spring 2020 — in fact, they were one of the first major companies to do so. Google employees are being encouraged to get vaccinated, although it's not required, and they can also apply to work remotely if they choose to do so after September 1, 2021.
Google began allowing employees to come back into the office in April, and thanks to the stunning new workspaces at Google Hudson Square, they may be eager to get settled in! The building at 315 Hudson Street will feature several ground-floor retailers like Sweetgreen, a popular upscale restaurant chain known for its salads, and employees working at the Hudson Square complex will benefit from numerous fantastic amenities. The building will feature multiple outdoor terraces that are perfect for soaking up the sunshine during breaks and lunches, and employees can even enjoy a landscaped roof terrace with breathtaking views of the Hudson River and the New York City skyline.
With such a beautiful office, employees will hardly want to leave — but of course, the Hudson Square area, in general, has plenty to offer. Known as a quiet residential area with lots of office space, Hudson Square is often frequented by food trucks and is just a quick walk from some delicious restaurants. From fun bars like Azul on the Rooftop to delicious takeout options like Maman or Taureau, there's always something exciting and new to discover in the area, particularly as more places open up and ease COVID-19 guidelines.
Hudson Square also benefits from a great location; hop on the subway at Houston or Canal Street for easy access to great parts of Manhattan. As the area continues to develop, there are sure to be more retail and dining locations popping up along the streets.
If you're searching for apartment or condo homes in Hudson Square or Chelsea, contact real estate agent Adie Kriegstein with the NYX Experience Team today! With over 15 years of Manhattan real estate experience, Adie will be happy to help you find the home of your dreams in the city.
Header Image Credit: COOKFOX Architects, 500 Washington Street