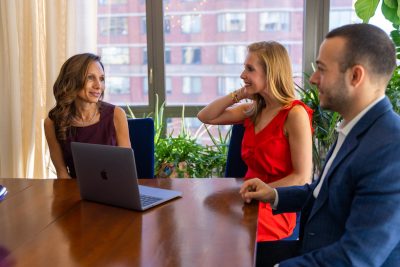 Meet The NYC Experience Team
The NYC Experience Team is a powerful real estate team that uses sophisticated, real-time analytics and attentive customer service to deliver outstanding success for purchasers, sellers and investors. Founded by elite New York City real estate expert Adie Kriegstein, The NYC Experience Team leverages the power of Compass' nationwide reach and best-in-class tools to create seamless and successful client experiences in the city and every major market across the country.
With over 15 years of real estate experience, Adie is a sought-after veteran who has successfully represented clients in all property types, closing more than $375 million in sales over her impressive career. She has extensive experience selling new development projects, representing both buyers and sponsors. Adie is also known for her thorough knowledge of the city's best pet-friendly buildings. Born and raised just outside of Boston, Adie spent her summers in Martha's Vineyard and moved to New York City in 2005 after developing an intense passion for urban planning and design. Today, she is an owner and board member at the Chelsea Stratus condominium, where she lives with her Yellow Lab, Philbin.
Maurice Mizrahi is a residential real estate professional committed to providing value in all aspects of the real estate transaction. He prides himself on his exceptional service, unwavering attention to detail and deep understanding of industry data and market trends. In turn, Maurice's clients benefit from a knowledge-based approach that ensures every buyer, seller and investor is educated and informed to make wise and profitable decisions. More than just an agent, he strives to be a lifelong advisor to all of his clients.
Lori Ben-Ari has over eleven years of experience in residential real estate sales, assisting buyers and sellers all over Manhattan. An Upper West Side resident with her husband and three children, Lori has a strong understanding of the lifestyle of those raising families in Manhattan like she does that of single professionals. Clients truly appreciate her proficiency, empathy, and patience while shepherding them through a process that may at times feel daunting. She also has extensive experience with New Developments and has the ability and knowledge to guide clients through the buying process in this arena as she understands development from both sides of the transaction.